INTRODUCTION
Coal Vertical Roller Mill (VRM) is an air swept, medium-speed, vertical pulverizer with integral classifier. It pulverizes coal by applying hydraulically-loaded grinding pressure through three grinding roller onto a rotating bed of coal. Grinding pressure can be adjusted to account for variations in coal grindability and desired product fineness.
Vertical roller mill can replace ball mills or tube mills used for preparing coal. Today VRMs with capacities up to 50 tph are the dominant technology for coal grinding. Grinding media wear in a VRM will only be 5 to 10 g/ton of coal powder, as compared to 100 g/ton of coal powder in a ball mill.
Application:
The coal powder grinding system is mainly used for burner of burning system in cement plant, lime plant etc, which can also applied in making coal powder which are used for the boilers in power plant and thermal power plant.
Production Process Flow Chart
The raw coal is stored in the raw coal bunker and fed into the vertical mill by the belt weigher in bottom of raw coal bunker. After drying, grinding and powder classifying, the coarse coal powder with unqualified size will be fall down onto the millstone again for grinding. Meanwhile the qualified coal powder will be discharged with airflow, and entered into the high concentration bag filter especially for coal mill, the air cleansing by bag fiter will be exhausted into the atmosphere., The coal powder collected by the dust collector will be conveyed into coal powder silo through the conveyor belt. Any sundries inside the raw coal, like coal gangue, metal block, etc, will be discharged out of the mill by vane.
The coal powder prepareation system is designed with safety measures, like anti-explosion value, inert gas fire extinguishing system, etc.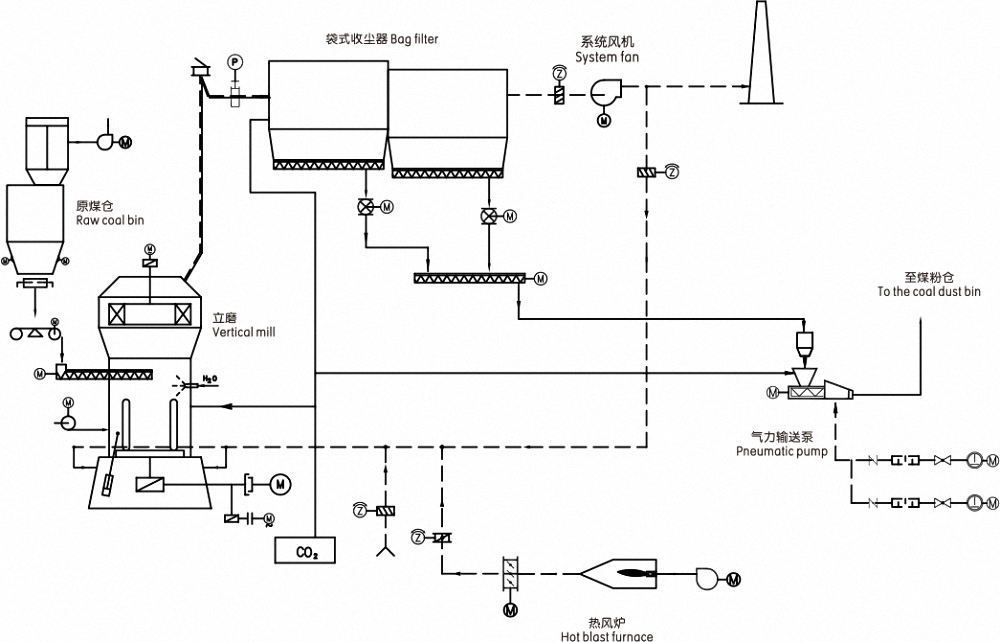 Project Cases
PROCESS
Depending on the required coal fineness, there are two types of classifier that may be selected for a vertical roller mill. The dynamic classifier, which consists of a stationary angled inlet vane assembly surrounding a rotating vane assembly or cage, is capable of producing micrometer-fine pulverized coal with a narrow particle size distribution. In addition, adjusting the speed of the rotating cage can easily change the intensity of the centrifugal force field in the classification zone to achieve coal fineness control real-time to make immediate accommodation for a change in fuel or boiler load conditions. For the applications where a micrometer-fine pulverized coal is not necessary, the static classifier, which consists of a cone equipped with adjustable vanes, is an option at a lower cost since it contains no moving parts. With adequate mill grinding capacity, a vertical mill equipped with a static classifier is capable of producing a coal fineness up to 99.5% or higher<50 mesh and 80% or higher <200 mesh, while one equipped with a dynamic classifier produces coal fineness levels of 100% <100 mesh and 95% <200 mesh, or better.