INTRODUCTION
Raw Material Grinding (Vertical Mill) is mainly used for grinding raw meal, clinker, which is used in cement grinding station, cement production line.
Vertical Roller Mill manufactured by ZK Corp, for example double-swing type, underground type and step-started type jaw crusher, cone crusher, rotary crusher, single - section hammer crusher, tube coil grinding mill, grid type ball mill, bucket elevators, plate type, dissepiment and vibration feeder, screw sand mixer and heavy duty soil spreader for open-pit coal mining, are widely used for the industries of metallurgy, building construction, road construction, and chemical industry as well as silicate industry.
In order to enable the small and medium investment owners to select the supplier without any difficulties and according to market demand, ZK Corp is able to make design and provide technical proposal and equipment for the whole mineral powder production line with the annual capacity of 10,000t, 30,000t, 50,000t, 80,000t, 100,000t, 150,000t and 200,000t. Henan Zhengzhou Mining Machinery Co., Ltd has provided various kinds of large and medium size complete sets of cement production equipments for more than 300 cement customers in domestic market.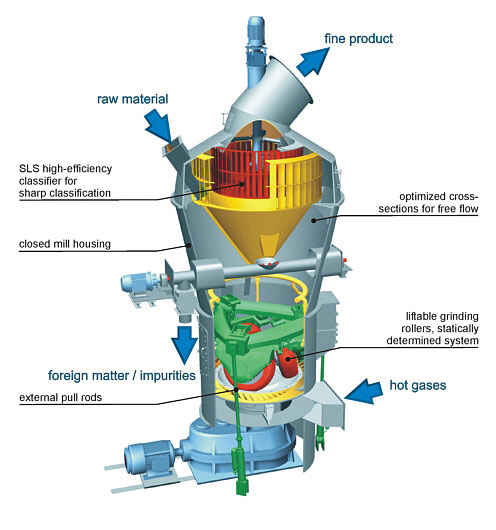 PROCESS
1. The combined classifier improves the powder selection efficiency.
2. It is not necessary to distribute material on the grinding plate before start-up. The roller can be lifted up and down automatically and start without load.
3. It is well sealed by welded arc plate and structure is simple and reliable.
4. With the help of roller turning device, it is easily to turn the roller out for maintenance.
5. Both sides of roller sleeve can be used so that the service life of refractory material is extended.
6. Grinding roller limit device can ensure a certain space between roller and plate, which avoids the direct friction and collision between roller and plate and enhances safety.
7. The grinding roller is driven by liquid -gas pressure. Pressure filling and adjustment and roller lifting can be remotely controlled without operator on-site.
8. The roller bearing is circularly lubricated by thin oil to enable it to work under low temperature and clean grease so that the service life is extended.