INTRODUCTION
Ore ball mill is used to separate and screening different ore minerals, separate ore tailing. It also be used for ore grinding, non-ferrous metal beneficiation, new-type building material producing. Ore ball mill is mainly applied to the powder processing of mineral products in the industries of metallurgy, construction materials, chemical, and mining, etc.
Ore ball mill can produce powder from various non-flammable and non-explosive mineral materials with Mohs hardness below 9.3 and humidity below 6%, such as barite, limestone, kaolnite, ceram and slags, etc. The Product size is adjustable in the range of 80-425 mesh. Ore ball mill is possible to produce 30-80 mesh coarse powder through special device in the machine if necessary.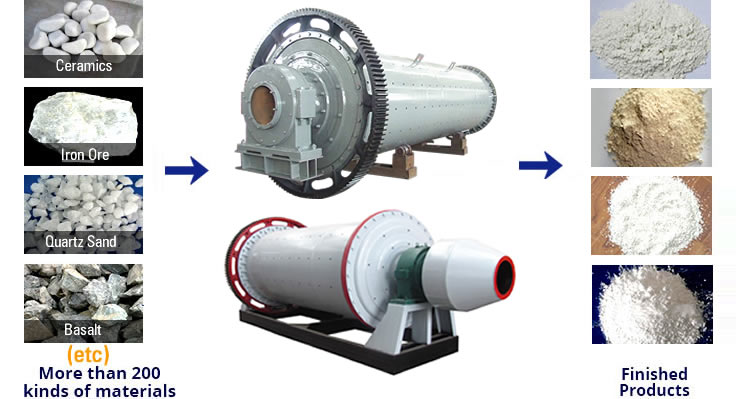 PROCESS
Ore Ball mill is mainly consisting of feeding device, big gear, discharge device, cylinder, diaphragm plate, hollow shaft, liner, drive device and other components.
1. The feeding device is consisting of inlet chute and screw. There are liners in the inlet chute, which can extend the working life of the feeding device.
2. There is pre-gap on the inlet hallow shaft, that can reduce the tolerance which is made of temperature changes and installation mistake to ensure the gear mesh.
3. Inside the ball mill, different parts have different liner structure, which will greatly improve the grinding efficiency.
4. Dry-type ball mill adopt sliding bearing, which is good of strength, ductility, antifriction, abrasion resistance, lubricity and thermal conductivity. It is able to meet the lubrication requirements of the hollow shaft. That is suitable for the environment of low speed and heavy load in metallurgical & ore dressing industry.
5. Wet-type ball mill adopt roller bearing, reduce useless work consumption and easy to replace.