INTRODUCTION
Screw conveyor is a kind of continuous conveying equipment without flexible traction mechanism. It has two types: LS series Screw Conveyor and Gx series screw conveyor. It mainly used to convey all kinds of powdery, granular bulk materials, such as clay powder, coal, cement, sand, grains, and small lump coal, gravel, scrap iron etc. But not suitable for sticky agglomerate, perishable materials. Screw conveyor has horizontal and inclined arragement. It can work with other conveying device to complete the concentrated transportation, distribution, agitation, mixing, dehydration, dosing, unload, stacking operation etc.
Screw conveyor generally used for continuity conveying bulk materials in short distance at horizontal or slightly oblique (angle β≤15 °) direction. It can mix and stir the material during conveying. The working environment is -20 ~ 50 ℃, and the material should be less than 200 ℃. Its design and fabrication meet the professional standards in JB/T7679-2008-"screw conveyor". The hanging bearing adopts the two structures of rolling and sliding interchangeable. It has low resistance, strong sealing and good wear resistance.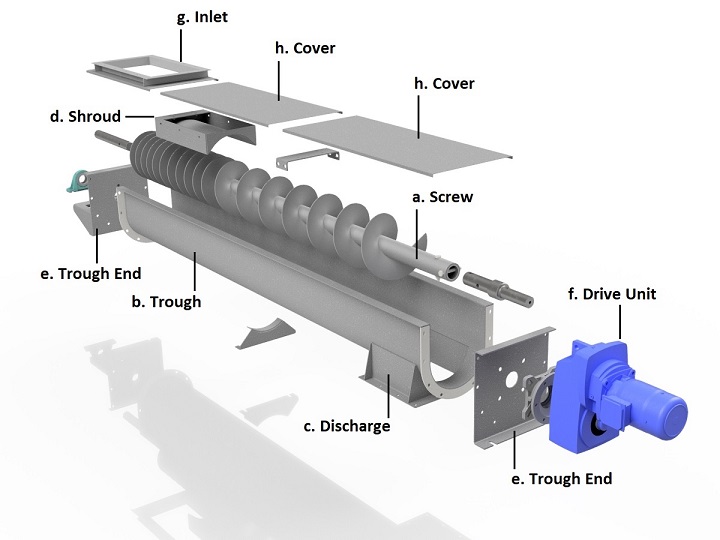 PROCESS
Both LS series and Gx series screw conveyor are mainly composed by screw, chute, hanging bearings, driver, supports, inlet and outlet. The main structural characteristics of each part are:
1.The head and tail bearing are arranged outside the chute. It avoids dust entering the bearing and convenient to install and maintain;
2.The optimized screw solved the material blocking problem at the outlet;
3.The screw shaft use reducing structure. It increases the volume at hanging bearings to reduce the wearing by the friction between bearing and material;
4.The screw shaft and hanging bearing connection applies embedded structure. There's no axial movement during mount and dismount. Thus it is convenience to maintain and repair;
5.The hanging bearing structure is compact and the dimension of axial and radial dimensions is small. It can avoid the material stuck and blocking;
6.The hanging bearing has improved sealing and lubricating structure. It help the bearing protection and lubrication effectively and can significantly increase its service life;
7.The hanging bearing is fixed at screw shaft connections of each segment. It can ensure the concentricity of the screw shaft while increasing its overall stiffness.